well, not yet anyway. But my brother is getting married in August. Being a cake decorator as a side hobby, I offered to make the cake. Then Rachele asked me to be to her Matron of Honor, and my to-do list quadrupled. So I decided that I would decorate a foam cake, for display, that way I could start working on it way in advance (which I haven't started yet) and then I would just buy 200 white cupcakes and pop fondant flowers on them and call it good. So for the last 18 months, this has been the plan. Then my husband says "well I can make the cupcakes at the church kitchen" Our church has a beautiful kitchen with 4 ovens.
So then my imaginations starts running. Oh, how many awesome and fun flavors there are out there that we could do! Not just boring white cupcakes from the grocery store. So to entertain the idea I started looking at recipes. Of course, my first stop was my favorite cupcake blog
http://www.iheartcuppycakes.com/
.
I found several recipes there, then I also picked up a Home & Gardens special cupcake issue that has 150 different recipes...so let the brain storming begin:
The colors of the wedding are
cornflower blue
and
tangerine orange
. A very bright, summery, on the river event. So my first thought was orange flavors.
iheartcuppycakes has a triple-citrus recipe
BHG has this orange cream recipe
hmmm...I will have to think about that one, they both sound fabulous. Also, I love red velvet, I think it is probably one of the most popular flavors, so thats on the list for sure. In looking for a good red velvet recipe, i came across this
blog
....go check it out.
Red velvet cupcakes from bestcupcakerecipes.blogspot
Rachele's last name is Foster, so when I came across a recipe for Banana Foster cupcakes, I had to add it to the list.
This recipe from BHG looks a bit messsy
so I think I am going to modify my favorite (and most used) recipe idea from iheartcuppycakes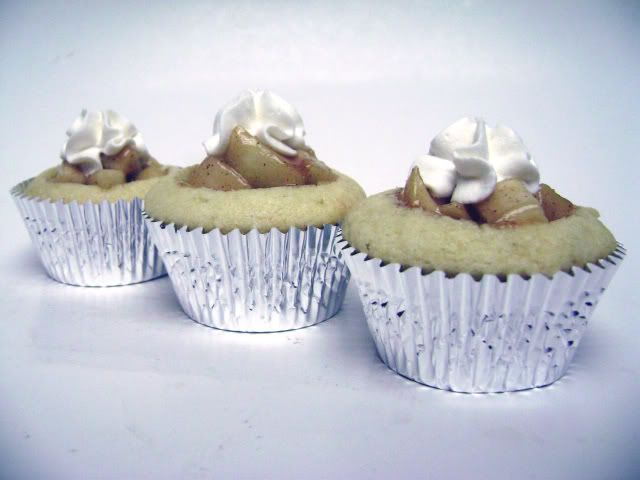 I make these apple pie cupcakes all the time, they are definitely a favorite, so I think I will do the same thing, scoop out the center, then fill it with the banana foster filling, then cover the whole thing with the yummy frosting!
Hm, on that note, maybe I should just add the regular apple pie cupcakes to the list too!
Now, these look too good to pass up, On the test list for sure!
Peanut Butter Chocolate Twist Cupcakes from BHG
And I like the lemon garnish on this, I wonder if we could that with oranges and use it on the orange cream cupcakes....worth a try!
to the test kitchen!!